Venomous Snakes in North America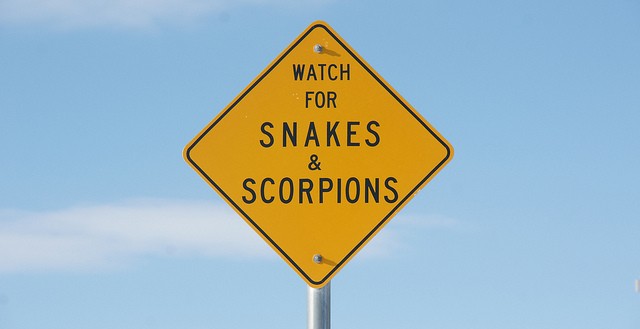 When the weather gets nice, it's time for the hikers, campers, and outdoor enthusiasts to come out of hiding… which happens to correlate with an uptick in snake activity (including venomous ones).
First things first, I'll say that I'm not one of those people who believes all snakes should be killed on sight. If a snake is non-venomous, I'll let it slither on it's way every time. If it's venomous, and too close to my house or yard, that's when a decision has to be made.
In order to make that decision, I first need to identify the species of snake and determine whether or not it's a venomous snake.
Despite the fact that we only have 4 major species of poisonous snakes to deal with in North America, it can be surprisingly difficult to calmly ID these snakes in the heat of the moment. In fact, that's why I'm writing this article, to make it easier for the non-snake experts among us to avoid a nasty and potentially fatal bite.
The 4 Big Ones
These are the 4 groups of poisonous snakes that you may run across in the US:
Rattlesnakes
Cottonmouths
Copperheads
Coral Snakes
When I say that there are 4 major species of venomous snakes, that's a bit of an oversimplification, BUT that actually makes the identification process easier.
You see, it doesn't matter much if you've spotted a Texas Coral Snake or an Arizona Coral Snake, both are deadly poisonous. So stay away.