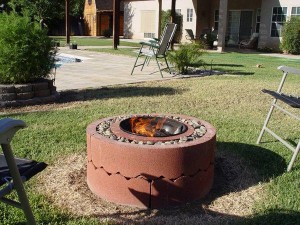 If you live in a neighborhood, chances are good that the neighborhood association frowns upon massive bonfires burning in your back yard… too bad really.
The good news is that building a fire pit to safely contain your backyard bonfires doesn't require a major investment in either time or dollars. For about $50, you can build an impressive and sturdy, suburb-friendly fire pit to enjoy in your backyard.
All of the pieces can be found at your local hardware store (Ace, Lowes, Home Depot, McCoys, etc.) and assembled in an afternoon — scratch that, about an hour.
Materials List:
Weber Smokey Joe Portable charcoal grill or equivalent 14″ diameter grill. ($30 new)
4 sections of 14″ inside diameter concrete tree ring ($2 to $3 each = $8 to $12 total)
6 sections of 24″ inside diameter concrete tree ring ($2 to $3 each = $12 to $18 total)
2 cubic feet of small stones, pebbles, road gravel or decorative rock ($0 to $20 depending on how fancy)
Total cost $50 to $80 depending on your taste in stones.
Check out these photos for inspiration: