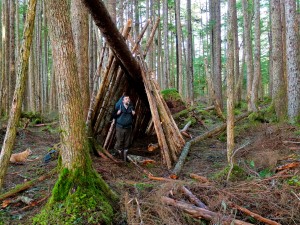 Getting lost or stranded in winter storm conditions can happen to anyone. You could be hiking in the backcountry, or you could simply be driving to a family Thanksgiving. A serious winter storm, complete with "white out" blizzard conditions, can leave anyone in a bad situation.
RELATED: How to Build a Winter Emergency Car Kit [STEP-BY-STEP]
The rule of thumb is that a human can survive around 3 hours in extreme weather conditions without shelter. So even if you don't plan to go hiking this winter, it's very important that you'll need to know how to build an effective survival shelter, and quickly.
Knowing how to do this from memory, without access to the Internet or even written instructions is going to be imperative. Therefore, we heavily encourage you to pay close attention to the tips in this article.
Click Next for Step-by-Step Instructions…
Photo by Joseph