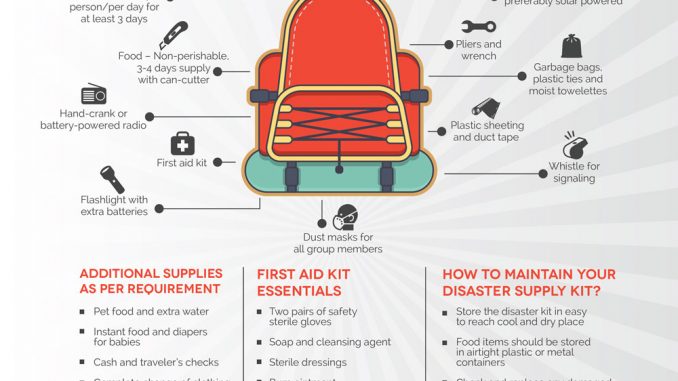 By Conrad Novak, SurvivorsFortress.com
Why You Should be Prepared
Natural and manmade disasters are a risk many have to deal with on a semi regular basis. From floods or fires to earthquakes and tornadoes, it pays to be prepared before disaster strikes. Even if you don't live in a disaster prone area, everyone faces the risk of something like a house fire or a water line rupture at an unexpected time. It pays to be ready ahead of time.
The American Red Cross offers some suggestions on ways to prepare for a disaster with you family. They even offer some free downloadable templates you can use to make your own plan. It is important to prepare the whole family so that everyone knows their role when the time comes. It's important to be able to have everyone ready at a moments notice.
Make your Emergency Plan
Sometimes you only have a few moments notice before you have to move. It is important to consider some questions when making your emergency plan.
What are the most important things you need to survive?
Do you take any type of medication?
Do you take care of an elderly family member who needs assistance moving around?
What kind of disasters are common in your area?
Are there multiple route options if you need to evacuate?
What roads often become flooded?
What roads are likely to be dangerous or congested in the event of a disaster?
How will you communicate if power is down?
Do you have very young children who need diapers or special food?
Do you have pets?
There are some general actions you can take to be ready for any emergency, but you'll have to evaluate the most likely risk in your area for a more targeted action plan. The steps you'll take and time you have to respond can vary greatly depending on the type of disaster you are likely to encounter. Tornadoes happen fast with short warning ahead of time while you may a little more notice with a hurricane.
The CDC outlines some of the steps you can take to make your plan here.
Getting your Family Ready for an Emergency
It's important to talk about the action plan with your family ahead of time. Maybe not everyone is home when disaster hits. Some disasters strike fast and you may have to evacuate your home before everyone makes it there. It is a good idea to have a meeting point at a location outside your home.
It is important to have a communication plan. Phones or power may be down in the event of an emergency. Maybe your 17 year old forgot to charge his phone that day and can't remember your number. Have emergency contacts printed and distributed to your family. It may be a good idea to run through your action plan a few times a year to make sure everyone is on the same page.
You can check out the site Ready.gov for some more tips on things you can do before disaster strikes.
Neighbors and nearby friends or family can also be a valuable resource in a disaster. It's a good idea to involve people in the community you can count on in your plan.
Keep a well-stocked Disaster Kit
Ultimately you aren't going to know about a disaster until it happens. Sometimes flooding or fire can prevent aid workers from reaching disaster victims for several days. The normal places you'd go to buy resources may be sold out if you wait until the disaster is imminent. It's best to be prepared for as many situations as possible and to be ready to spend a couple days without outside assistance if necessary.
An important factor to consider is keeping perishable items fresh. Maybe you're lucky and don't have to deal with a disaster for several years, but you don't want to open a bag of expired supplies when you need them the most. Keep a schedule, at least twice a year according to the CDC emergency preparedness and response guidelines, for rotating out items that go bad. Some of the items to check include:
Batteries
Food
Medication
Water
Survivor's Fortress has a great infographic about disaster kits that we recommend you take a look for more details on what items to keep in your kit.
Final Thoughts on Disaster Preparedness
We never know what life will bring our way but we can mitigate damage with appropriate planning and communication. By making sure everyone in your family knows their role and maintaining a well stocked disaster kit, you can give your loved ones their best chance to make it to the other side of disaster unscathed.