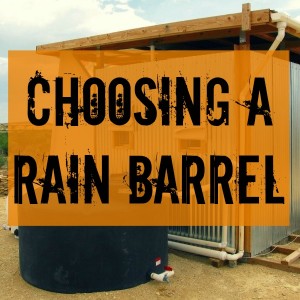 It's springtime and the rain is coming down in buckets across many regions of the country. Aside from the farmers, however, few are capitalizing on the precious resource that's falling out of the sky.
Some are taking advantage of it though. And if you're not among them, you sure as heck should be…
Saying that water is essential to surviving a crisis is cliché. So I'm going at it from a different angle. If your goal is to become truly self-reliant, then you must have a way to provide your own water. In the movies, you'll see folks collecting dew on tarps and capturing it in water bottles. Let me assure you, you're going to need a lot more water than that.
The best solution, one that doesn't require a well-drilling rig and thousands of dollars, is to create a rainwater capturing system. It's fairly simple to do, and you probably have half of the necessary equipment in place already, i.e. a roof and gutters. All you need now is a plan and some storage tanks.
Here's the thing, you can start small. I got hooked on rainwater after installing a 55 gallon rain barrel (a lot like this one) under a downspout one spring — it overflowed after the first rain. So I upgraded… and upgraded again. Pretty soon, I had a 2,000 storage tank on my yard.
So my point is that rainwater harvesting is actually very fun. That's because it's easy and you see results quickly, i.e. it's a pretty rewarding hobby.
First things first

As you research rainwater harvesting, you'll no doubt come across a very persistent myth that capturing rainwater from your home's roof is illegal in many states. The truth is that only 12 states have any laws on the books concerning rainwater harvesting. In those 12, the legislation promotes the use of rainwater to combat drought conditions and conserve municipal water supplies.
In other words, if there's no law prohibiting it… it's legal.Check out the NCSL website here, or this article from RainSaucers.
Start Small
I'm convinced that the best way to get started is the same way that I did — with a single rain barrel. This method has the lowest startup costs and it encourages you to get your gutter system cleaned out for maximum efficiency (if you haven't cleaned out your gutters recently, you'll be shocked how much junk is in there).
That's why I put together this quick list of rain barrel considerations. I think everyone in America should have at least ONE rain barrel harvesting rain around their home. That would give everyone a 40-50 gallon backup supply of water they could filter and drink in a crisis.
Durability
The most important concern you'll need to address is durability. Different climates call for different barrels. I you live in an area that gets extremely cold in the winter, an old-fashioned wooden barrel may not be the best choice. Select a material that will hold up (and hold water) in your climate.
Budget
Most certified "rain barrels" available at retail stores come with premium prices. However, if you're looking for 55-gallon barrels on Craigslist, you can pick one up for less than $20. Imagine that. Look for food grade barrels if you plan to use the water for drinking/cooking.
Aesthetics
I won't lie, a lot of the rain barrels out there are butt-ugly… and the pretty ones cost a small fortune. The wood wall tank on the right is very inconspicuous and design-friendly, but it's about $650.
At $105, this planter/rain barrel looks like a bargain.
Dimensions
If space is an issue, you might want to check into a collapsible rain barrel. For just about $50, you can get a soft sided rain barrel that you can break down and store over the winter months.
Takeaway
The important thing is to get started. Don't over complicate the decision to buy your first rain barrel. Remember, it's just the first step in your journey to becoming water self-sufficient.
If you get bit by the rainwater harvesting bug, you'll add on to this system increase the scale of your storage tank investment. I can attest to that…
SHARE YOUR RAINWATER HARVESTING TIPS BELOW!