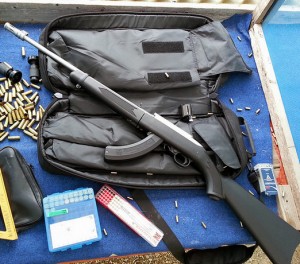 Plinksters at all skill levels can appreciate the beauty of the rimfire cartridge. Whether it's the light recoil, inexpensive ammo, or the less-than-earsplitting volume (usually) that wins you over to the wonderful world of rimfire, there's just something about these guns that helps many shooters rediscover the joy of shooting.
Rimfire guns may not boast the muzzle velocity or range that their larger cousins do, but that doesn't diminish the passion that many have for the .22LR and the .17HMR, which converts more and more devotees by the day.
There are a wide variety of styles and price points available, which means you can choose between options such as a rimfire handgun or a rimfire semi-automatic rifle. You can spend big money on a high-end tack driver, but most shooters are drawn to rimfire for the ability to shoot lots of rounds cheaply.
RELATED: Watch Her Shoot This Amazing DIY Belt-Fed 22LR
Finding something to fit your budget may initially seem difficult if you do not want to spend more than $250. The good news is that we have compiled a list of the best budget rimfire guns, and this should make it much easier for you to build your gun collection without breaking the bank.
Read on to discover 9 of the top adult rimfire guns that can be purchased for $250 or less. As an added bonus, we have also added two youth options to the end of the list to help ensure that you have the right equipment to safely teach your children how to shoot.