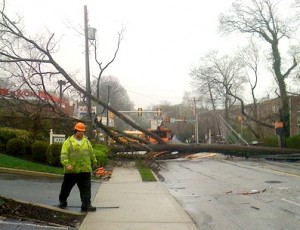 Most Americans laugh off the threat of power outages, believing the power will come back on in a few minutes… but as many of us have experienced first-hand, sometimes these blackouts can last hours or even days.
Have you ever had to endure a blackout that lasted waaaay longer than you expected? I have. And here's the thing, I wasn't prepared. It was a real mess.
And sure, flashlights are important in a blackout, but there are a lot of other items that are equally, if not more important. That's why I'm not wasting a spot on my top 5 for flashlights or hand-crank radios. You already know these items are important and you hopefully have these on hand for any number of other emergency scenarios.
These are items that may not immediately come to mind when you think "blackout." Here are my top 5 items to have in a longterm blackout. Let me know if you're surprised about which items did or didn't make the list:
1. Emergency Blankets – Emergency blankets are at the top of the list for two reasons 1) extreme hot or cold temperatures can be dangerous 2) a high percentage of blackouts occur as a result of inclement weather, especially winter storms. Even though you may have a gas furnace, your thermostat may require electricity. If that's the case, then temperatures in your home may fall quickly.
2. Carbon Monoxide Detectors – Of all the unforeseen threats of a blackout, CO is one of the most dangerous. Many people will immediately get creative and fire up their fireplaces, camp stoves, and space heaters at the first hint of a power outage, which increases the likelihood of dangerous carbon monoxide levels inside the home exponentially.
A good battery powered carbon monoxide detector can save your life in blackout scenario. If it goes off, open the windows and doors and get out immediately.
3. Water – Don't wait until an emergency to find out that your community's water service depends entirely on electricity… and that you consequently have no water to drink or clean with. Water is a must in every survival scenario. I recommend a 30 day supply of drinking water, plus water for hygiene.
In a blackout scenario, 30 days is a stretch. Just shoot for 1 gallon per person, per day. That will cover drinking water, hand washing, and dish washing in a pinch.
4. Cash/Hard Copies – We live in an increasingly cashless society, where many of us go days with absolutely no actual cash in our wallets — just a bunch of cards. If power is down in your area, cash will still spend.
In fact, it's a good idea to take a moment and think about all of the important day-to-day information that you have stored online (this may include addresses, passwords, account numbers, medical information, etc.).
If you lose your internet connection, you won't be able to retrieve any of this critical information for a long time. You won't be able to look up addresses, phone numbers, or pull up a Google Map. So it's critical that you have this info stored someplace besides the "cloud."
5. Marine Grade Cooler -Most survivalists get caught up in the gadget/power side of a blackout that they miss the critical food safety issues. Even in a fairly short power outage, the food in your refrigerator can reach unsafe levels and spoil. With a bag of ice and the next item on this list, you can make sure your food stays safe.
Use ice and bags of frozen vegetables to keep perishable foods cool in a high-quality cooler. It doesn't have to be a YETI, but many of the cheap coolers out there are just junk. They barely keep ice frozen for 12 hours in moderate weather.
What did I leave out? Let me know in the comments section below!