Rhino 40DS – .40S&W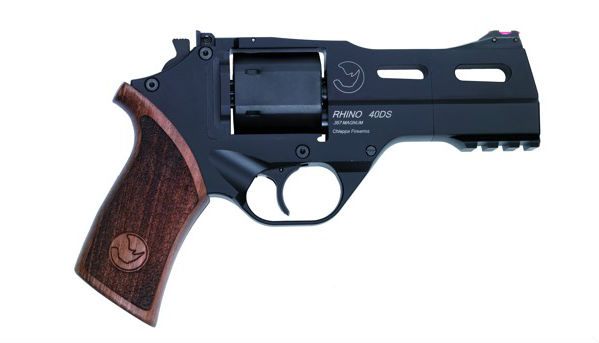 If you want something that turns heads at the range, but not necessarily because it's graceful and elegant (it ain't), the Chiappa (pronounced "Key-ahh-puh" Rhino 40DS may just be for you.
It's blocky and esoteric-looking, and it's actually kind of hard to figure out where the barrel is from the side (it actually where the push rod would typically be).
But we supposed beauty is in the eye of the beholder. And if you're holding the Rhino 40DS, you most certainly have a 6-shot revolver with an accessory rail in your hands.
In fact, this unusual looking revolver is just begging for a laser sight, in our opinion — to buck tradition if for no other reason…
It seems fitting for a revolver that fires from the bottom of the cylinder. Probably the most unusual characteristic of the Rhino is, apart from its looks, is the fact that the recoil goes straight into your palm, reducing that old "muzzle flip."