Indicators of Upcoming Martial Law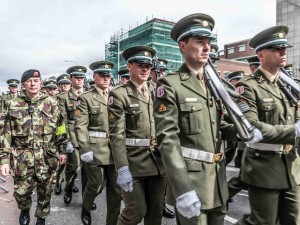 Is it peacetime and there's no parades scheduled but suddenly armed soldiers start marching in the streets? Has the National Guard been deployed to several cities? Are military planes flying overhead on a regular basis in areas that don't typically experience this type of activity? Has the phrase martial law actually been said by a member of the government?
All of these are warning signs of impending martial law. If you don't want to end up in a government enforced camp or worse, these warning signs should be heeded.
Note that staying in a below ground bunker that's attached to your house may not be feasible during this type of situation unless you are certain no one can access it.
Hiding deep in the woods is probably your best bet. Hopefully it won't be forever, so make sure you have a hand crank radio with you to stay updated on the news.
Photo by William Murphy