2. Schrade SCHF10

If you want to take things up a notch when it comes to size, this is an excellent option. While Imperial Schrade is now just a marketing namesake, the American knife company ceased production in 2004, the brand still lives on and pays a surprisingly strong tribute to its roots.
The Schrade SCHF10 comes with a blade that ¼" thick, so you know it will be able to stand up to a beating. Read: This thing won't complain if you need it to serve as a mini-machete.
The handle is molded for easy usage, even in wet conditions. The blade is 5.2" long, and the overall knife is well balanced enough to offer a nice feel for both bushwhacking and more detailed work.
3. Morakniv Bushcraft Forest Knife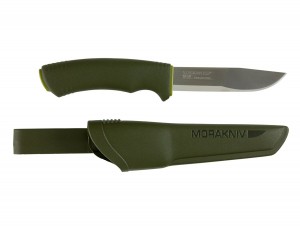 This fixed blade Mora measures in at 4.3" long and 0.10" thick. The high friction grip will be easy on your hand and help you prevent dropping the knife when it matters most.
This budget piece is a great starter knife for those looking for a low-budget option that will hold up under serious use. It's also light and slim enough to offer a little more precision for skinning game or filleting your catch.
This Mora is designed for precise bushcraft type jobs, not necessarily smashing and crashing, yet it's plenty durable to handle abuse.