4. Case XX Camo Caliber Ridgeback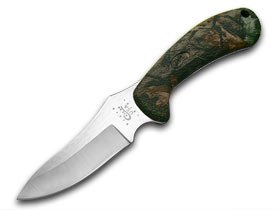 There's one thing about this knife that is virtually certain to get many survivalists excited: it's actually made in the USA. Case knives, if you're not familiar, are a cult favorite among those who value American craftsmanship and Tru-Sharpä surgical steel that takes an exceptionally sharp edge.
The blade on this ridgeback is 4-1/8" long, but the overall piece is a robust 8" for easier handling. This drop point blade is strong and fully capable of performing a wide variety of tasks, with 2 nice ribbed grip edges on the spine of the blade.
Whether you're splitting a hunting kill open or skinning it, you can rely on the Case XX Camo Caliber Ridgeback to get the job done.
5. Camillus TigerSharp Folding Knife

Are you trying to build your SHTF supplies on an extremely small budget? This folding knife from Camillus may be a lifesaver! The manufacturer's suggested retail price is less than $30, but you can usually find it on Amazon for under $23.
The thumb-stud opener is fast to ensure you'll be ready to take action immediately. The unique selling feature with this knife is its removable blade with two options: serrated or smooth.
If you're not real keen on sharpening knives, or you plan to use your knife in a lot of building/construction scenarios, it's hard to beat this concept. First off, according to Camillus, the "TigerSharp" titanium bonded blades are 3 times harder than steel, which means they'll hold and edge longer and stand up to more abuse. Also, they're corrosion and adhesive resistant.
These knives come with two blades (1 serrated, 1 smooth) which is great if you ever need to use it for shelter building one day and food prep the next.