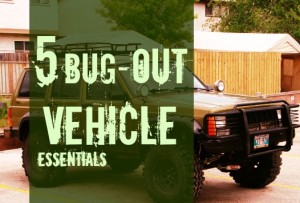 Whether or not you think of your family car as a "Bug-Out Vehicle," in the event that your family needs to evacuate quickly during a crisis… it is one.
Advanced survivalists put tons of blood, sweat, and tears into the fine art of crafting "the perfect B.O.V." These vehicles have 4-wheel-drive, all-terrain tires, winches, snorkels, reserve tanks, etc…
As a "car guy," let me be the first to say that I greatly respect all of the ingenuity and innovation that those BOVs represent. Still, you've got to start somewhere. And the change in your mindset, the way you think about your daily driver, that's the most important part of the equation.
The important thing is that begin making that change now. That's precisely why I'm writing this post.
We all rely on our vehicles to transport our family and ourselves to work and school reliably and safely. In fact, our cars are so reliable these days, that we rarely think of maintenance. Many americans don't know where their dipstick is, how to check coolant levels, or even how to change a tire… That's bad.
Whether or not you plan to build your own bug-out vehicle, it's critical that you learn how to check a few basic maintenance items, so that your vehicle is ALWAYS ready to bug-out…
Check out our "Quick B.O.V. Essentials Checklist"
Gas Tank 1/2 Full (at least) – It doesn't save you money to let your fuel light come on… Keeping at least 1/2 a tank in your vehicle overnight gives you the peace of mind that you can drive for hundreds of miles without stopping at a moment's notice.
Tire Change Equipment – A spare tire (in good condition), a jack, and a lug wrench (preferably a 4-way) should always be stored inside your vehicle.

Extra Water – If your car overheats, it needs water. If you overheat, you need water. That's all that really needs to be said.
Hand Tools – A small set of tools including a ratchet set, screwdrivers, and a pair of pliers is a good idea, in case you'll need to make repairs on the fly.
Air Compressor – If you do loose tire pressure, a pump that plugs into your car's 12V adapter can help you fill your tire and hobble to your destination in a pinch.
WHAT DID I LEAVE OUT? LEAVE YOUR SUGGESTIONS IN THE COMMENTS SECTION BELOW!