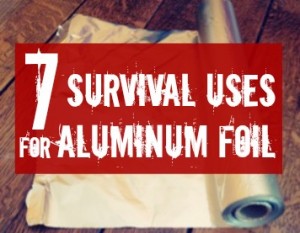 Necessity, as they say, is the mother of invention. In a SHTF situation, where supplies are severely limited, necessity appears just about everywhere you look. That means that knowing a multitude of survival hacks is the mother lode of problem solving…
Ideally, your survival stockpile should be filled with what I call hyper-multipurpose items like duct-tape, hydrogen peroxide, and of course aluminum foil.
Aluminum foil falls in right behind duct tape and bailing wire in terms of usefulness. I've compiled a list of 7 unusual uses for the stuff. If you get creative, I'm sure you could think of dozens more uses for this very flexible stuff.
1. Fix Battery Connections
If one of your battery powered gadgets is only working intermittently, that could mean you have a loose batter connection. Springs can lose tension after a period of time, which allows your batteries to bounce around inside and lose contact. To fix this problem get a small piece of aluminum foil fold it until it is thick enough to fill the slack.

2. Makeshift Frying Pan
You can use an aluminum foil to make a frying pan in case you want to cook something but you don't have anything to cook on. Making an improvised frying pan using aluminum foil is easy: all you need is aluminum foil and two large sticks. Wrap the edges of aluminum foil around the sticks and voila! You now have a frying pan.
3. Keep Your Bedroll Dry
Wet bedding materials can really put the kibosh on your much-needed sleep. To protect your sleeping bag from rain or morning dew, put some heavy-duty aluminum foil under your sleeping bag, or even drape it on top (the dew will form on the foil instead of your bag).
4. Keep tinder/matches dry
This one's simple. To keep your matches and tinder dry, wrap them with aluminum foil.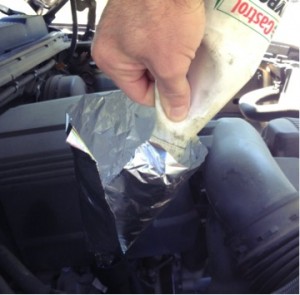 5. Lure a fish
Many species of fish are attracted to shiny objects. Wrap some aluminum foil around your fishing line or construct a makeshift foil lure near your hook. The reflective foil lure around your hook will entice fish to strike.
6. Make a funnel
When you need a funnel but you don't have one or can't find one, use an aluminum foil to make a funnel. Get some aluminum foil then roll it until you get the proper shape.
7. Trail Marker
You can use aluminum foil to signal for help by placing pieces of aluminum foil in the branches of a tree or just by simply holding it up.
Bonus: Sharpen Scissors with Foil
As you can imagine, this isn't a good alternative for high-quality sharpening equipment. But aluminum foil can help you sharpen a pair of scissors in a SHTF emergency. Simply fold the foil over several times and then cut through the layers with your scissors 5-10 times, which automatically hones the sharp edges.
What did I miss? Share your best aluminum foil hacks in the comments section below!