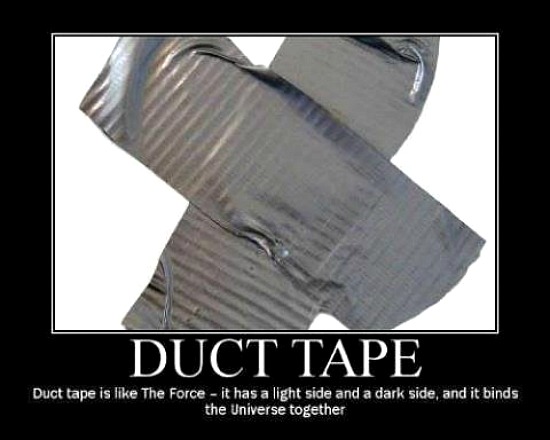 When it comes to multipurpose items to have on hand in case of emergencies, it's hard to imagine anything that tops duct tape.
In the hierarchy of survival necessities, duct tape has to fall behind only food, water, and (maybe) firearms.
You may think I'm being facetious –and maybe I am just a little bit — but duct tape really does constitute one of the most versatile items you can have in your bug-out bag, in your vehicle, and in your emergency storage cache.
Here are 20 emergency uses for duct tape (and by no means is this an exhaustive list):
Repairing a leaky cup or water bottle – Duct tape can make a useless leaky vessel whole again. Just make sure the surfaces are dry before you apply your tape.
Replacement wallet – Whether you're carrying cash or coins, you can devise a pretty handy wallet for them with a little duct tape and ingenuity.
Devise a makeshift butterfly bandage – Cut two small strips of duct tape, and then add a smaller strip across the center of the strips (sticky side to sticky side) to create a butterfly bandage that pulls opposite sides together.
Make a short cord or rope – Twist a few lengths of duct tape together to make a strong cord that you can use to secure items to your backpack, bundle items, etc.
Patch a hole in pipe or plumbing – This may not work for systems with a lot of water pressure, but I've seen this done so successfully that other long-term repairs were almost unnecessary.
Fashion a belt – When food is scarce, your pants may not fit as well as the apocalyptic weight-loss plan begins to work. By overlapping several lengths of tape, you can make a sturdy belt that fastens by overlapping the tape by a few inches for a buckle.
Makeshift sling – Fold a length of duct tape lengthwise, sticky sides in, so that the tape is half its original width. Use the strap to make a sling for a busted arm.
Make labels – Write on your tape with a marker to label bins, mark expiration dates, or even leave messages.
Handcuffs alternative – If you need to subdue someone during a crisis situation, to keep them from being a danger to themselves or others or yourself, duct tape their hands together. We've seen it in the movies a million times.
Repair you shoes – A lot of sneakers and boots have been repaired with less. I've seen duct tape repairs last for at least an entire week of hiking.
Shelter construction – If you need to improvise a temporary shelter in a pinch, duct tape can be a lifesaver. Use it to bind timbers and hold plastic sheeting in place.
Affix bandages – I've seen actual duct tape bandages before, but that's not what I'm referring to here. You can use duct tape to hole a piece of sterile dressing in place over a wound. It'll stay in place and then some.
Fix your tarps/rain gear – Keep the dry stuff dry, and keep the water out, by mending your ripped rain gear with a few strips.
Make a drinking cup – You'll have to get creative, but you can fashion a cup out of duct tape with a little effort. It may not be great, but it'll do… and it's very packable.
Blister care – The problem with blisters is that they form in areas where there's lots of friction. Band-Aids typically don't stay in place well. Duct tape, on the other hand, will stay in place. Just don't let it touch the actual blister.
Mark your trail – This one's pretty simple, but incredibly important. Marking trails is a great navigation habit. Traditional duct tape may not stick out, but it's vastly better that nothing at all.
Bug-out vehicle repairs – Leaking hoses, water lines, etc. can be temporarily patched with duct tape, at least well enough to get you to your destination.
Patch a hole in your sleeping bag/pillow. – One hole can pretty much spell the end for a down sleeping bag; that down leaks out like water. Patch that sucker with duct tape and it's good as new.
Keep your doors/windows/tents closed. – When doors, tent flaps, or windows aren't staying closed properly, or you need additional coverage (such as in a fallout situation) duct tape is your friend.
Splint a broken tent pole, leg, or fishing pole – By using duct tape to create a splint, you can fix all kinds of broken objects that need to support weight or provide tension.
What did I miss? What's your favorite alternative use for duct tape?