Did you know that the food you ate today was contaminated? It's almost a guarantee.
Most of the time, foods with potentially harmful ingredients are forced to include them on their labels, think: Trans fats… However, when Big Government joins forces with large corporate interests, there's no limit to how much information they'll try to conceal from the American public.
It's bad enough to stealthily contaminate the US food supply with GMOs, but to attack and defeat any legislation that requires GMO labeling… that's how you know that the corruption has reached the highest levels of government.
What's the harm in a little disclosure?
In case you're unaware, GMO stands for "genetically modified organisms." Almost all of the food we eat — from tomatoes, to corn, to breakfast cereal — contains these GMOs. Straight from the test tube to the kitchen table…
Thousands of Americans will be taking to the streets to rally against Monsanto and its co-conspirators in the FDA and Congress. What many of these "Occupy" folks don't realize, however, is that this isn't about health, or food-safety. This is really an issue about freedom.
Monsanto, along with Dow Chemical, BASF and a host of other major corporations are fighting to create an agricultural monopoly. The Supreme Court and Congress are helping…
These companies are patenting the actual seeds for almost every type of commercial crop. If you grow their crops on accident, you may be infringing on their patent!!! When these companies and their cronies are done, they may well own every plant in your garden.
Anti-Monsanto demonstrations are planned for this Saturday, May 25th, at all State Capitol buildings across the nation. From Occupy Monsanto: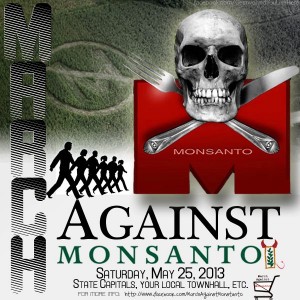 Research studies have shown that Monsanto's genetically-modified foods can lead to serious health conditions such as the development of cancer tumors, infertility and birth defects.

In the United States, the FDA, the agency tasked with ensuring food safety for the population, is steered by ex-Monsanto executives, and we feel that's a questionable conflict of interests and explains the lack of government-lead research on the long-term effects of GMO products.

Recently, the U.S. Congress and president collectively passed the nicknamed "Monsanto Protection Act" that, among other things, bans courts from halting the sale of Monsanto's genetically-modified seeds.

For too long, Monsanto has been the benefactor of corporate subsidies and political favoritism. Organic and small farmers suffer losses while Monsanto continues to forge its monopoly over the world's food supply, including exclusive patenting rights over seeds and genetic makeup.

Monsanto's GMO seeds are harmful to the environment; for example, scientists have indicated they have caused colony collapse among the world's bee population.
One of the only ways to ensure that your family is eating only the safest, most wholesome fruits and vegetables, you're going to have to take matters into your own hands… by planting a garden using heirloom seeds. More on that soon!