Full-Size, Carry, Compact, Sub-Compact All-in-One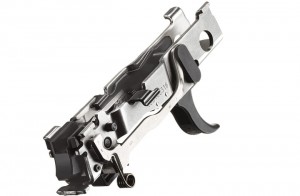 When it comes to the P320, the actually "gun" as the Federal government defines it, is the funky piece of metal you see in the picture. You can see the serial number as well.
This unit, comprised of the trigger assembly and striker mechanism, can be removed in seconds from the frame and swapped out. Want a different slide? Barrel? Smaller frame? All of these pieces are interchangeable with the "gun."
Thus, the Army can utilize the same familiar and well-designed components in all sorts of different configurations. Once you learn about one P320, you know about all of them.
There's a definite advantage to having a completely interchangeable platform across your entire army. There's probably also a cost saving there as well.