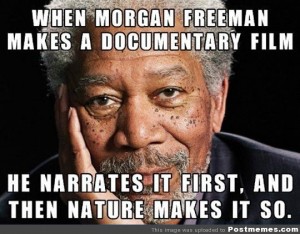 During a recent appearance on the Tonight Show, celebrity Morgan Freeman discussed how he had picked up the hobby of beekeeping with host, Jimmy Fallon. In the interview, Freeman told Fallon that he had devoted his 126-acre Mississippi ranch to house honeybees that he had imported to his grounds from Arkadelphia.
Morgan Freeman Becomes "One" with the Bees
Morgan Freeman may have just celebrated his 78th birthday on June 1st, but it is apparent from the interview that the actor doesn't appear to be slowing down. During a light hearted and often hilarious exchange between Freeman and Fallon, the conversation turned to how Freeman had converted his sprawling ranch into a refuge for bees.
Freeman went on to discuss how he feeds the bees daily with sugar water, since they had been moved recently to his ranch and didn't know where to find food on their own yet. He also said that he discovered that he typically doesn't need to use protective gear or netting because he "resonates" and "becomes one with the bees" when he's out working with them and feeding them.
He told the Tonight Show host that since his goal is to feed them and not harvest the honey, they tend to leave him alone. Why bite the hand that feeds you? Fallon offered back. To be fair, the Patriot Caller thinks the bees probably are soothed by Freeman's famous deep and resonating voice.
You can watch the interview here:
Other Celebrity Beekeepers
Well-known celebrities such as Morgan Freeman aren't the only one's helping to aid the honey bees. Legendary individuals such as Sherlock Holmes, Aristotle and Sir Edmund Hillary were all keen on bee keeping. When Scarlet Johansson got married, fellow actor Samuel L. Jackson gifted her with a stinging wedding present, a beehive full of bees.
Henry Fonda was best known as a movie star to his many fans. However, his neighbors, family and co-workers probably best remember him for keeping bees across his Bel Air estate. Fonda would even hand out "Henry's Honey" to his family and co-stars. Fans of the Sound of Music may resonate with Maria von Trapp through her real life story, but few know that her husband encouraged her to participate in beekeeping.
Musical rockers such as Jon Bon Jovi have gained notoriety for their efforts in bee farming. However, he's faced criticism with the tax payers over his efforts. Whether he's bee farming to help the environment or he purchased the 6.5 acre site to prevent anyone from building on the property next to him, he's receiving significant tax breaks for his efforts.
Tax Breaks and Laws Associated with Beekeeping
Billionaires, celebrities and politicians such as George W. Busch, Michael Dell, Jon Bon Jovi and Donald Newhouse have harvested significant tax breaks when it comes to declaring their properties a wildlife refuge or farm. But before you go out and start your own colony of bees and begin farming, you'll want to understand the rules and regulations behind the various tax restrictions and credits that you could benefit from.
For instance, if you plan on reaping the future rewards through major savings on your next real estate bill, you will want to check with your local zoning department to see what laws govern bee farming. You may even have to prove that your bee refuge is a business, and not just a hobby in the state you reside. While states may give better property tax rates to agricultural land, it can be extremely difficult to claim and recoup.
In addition to the many laws, you also have to be able to support the bee population once you get into beekeeping. This means having the right flowers and plants that are bee-friendly and allowing them access to water that they can drink. Bees thrive on flowering plant life such as lavender, clover and magnolia blossoms.
Photo credit: Post Memes, Flickr