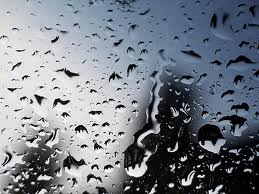 When preparing for a crisis, water is one of the first things that comes to mind. Storing water can pose a number of challenges…
Sure, you can buy several cases of bottled water, but they take up a lot of space. And really, how long would they last?
The thing that most of us are striving for is self-sufficiency. We're searching for things that will help us become immune to the rash decisions of petty governments.
Many of us are living under heavy watering restrictions right now. In many parts of the country, you can water once a week… if you're lucky.
How are you supposed to be able to support a garden?
Well, there is a way to have abundant water on hand, even in an intense drought: Rainwater storage.
Rainwater Storage Systems
Many homeowners associate rainwater storage tanks with other costly sustainable items like solar panels or wind turbines, but rainwater storage can be extremely affordable.
If you have gutters on your home right now, your only expense may be the tank itself. Even the most aesthetic tanks are comfortably within the reach of most household budgets.
Here's the equation for how much rainwater you can catch by simply guttering your home:
600 gallons of H20 per 1,000 square feet of room per 1 inch of rain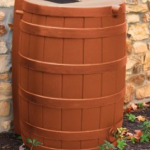 Three Common Rainwater Tanks
1. The no-frills model. While it's not the most visually appealing option on the market, this type of rain barrel is very functional and versatile. Many come with wheels and even built-in houses for watering plants.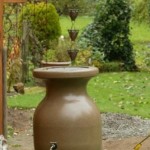 2. Next, there's the ceramic "urn" style tank. These are generally more expensive and hold less water than the cheaper tanks, but if aesthetic considerations are at the top of your list (and there's nothing wrong with that at all) then this style of tank work perfectly well.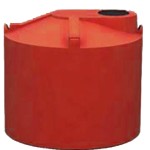 3. The super sized tank.You may think that a tank this 1,500 tank will hold more water than would ever run off of your roof. Wrong. Even if you're roof was only 1,000 square-feet, that comes out to 6,000+ gallons a year to store — in Tucson, Arizona!
If you're interested in reading more about setting up your rainwater system, "Rainwater Storage" by Art Ludwig is a pretty thorough book on the subject.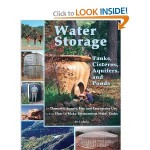 Is it Legal?
There is a very persistent rumor going around that catching rainwater is illegal in most states. This is completely FALSE. Antiquated laws in Utah require a permit to collect rainwater. In fact, more and more states are passing laws to protect and encourage the practice. Some states like Arizona and Texas actually offer tax credits for rainwater collection equipment. Read more about water harvesting laws around the nation on the NCSL website.