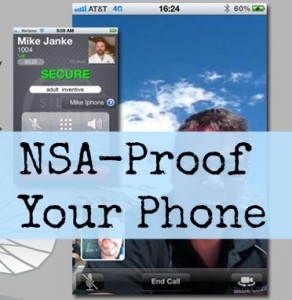 In 2013, a host of leaked documents confirmed what most patriots already suspected: The government's alphabet soup of spying agencies — the NSA, CIA, FBI, etc. — have been unconstitutionally spying on everyday Americans for years.
More recent revelations show that the NSA steals over 200 Million "untargeted" text messages each and every day.
Now that we know for a fact that the US government is collecting massive reserves of our personal data everyday through our smartphones… and they don't seem too apologetic about it… they question then becomes: What can we do about it?
Technology to the Rescue?
Most of us are familiar with the concept of leaving a paper trail. These trails consist of data that we leave behind as we go about our lives. If we were ever to come under investigation for anything, a judge could subpoena that information to be used against you in court. Otherwise, it's just sitting there, harmless and inert.
Part of what the government has been collecting on you and me through our mobile phones is similar. It's a very broad spectrum of information about a broad spectrum of the population.
However, if they feel the need to investigate your for any reason, they can zoom in on the information and tell exactly where you were when you sent a text message at 3:21 PM last Friday… who it was addressed to… and what it said.
Suffice to say, our "data trail" is like a paper trail on steroids.
The answer to the question, what can we do about it, is to cover your tracks on a daily basis. Don't worry, you don't need to start living like you're in a spy novel… you simply need to download an app for your phone.
Top 3 Encryption Apps
These apps are developed offshore, beyond the reach of the Patriot Act. In fact, these apps are designed to actually protect your privacy from snoops (gov't or otherwise). And they make the process incredibly simple.
When you use your smartphone for calls or text messaging, these apps encrypt the data to make it incredibly difficult to trace. That way, crooks, scammers, and even the NSA can't access your personal data without a very concerted effort. Poof! You're off the radar…
According to Michael Janke, CEO of SilentCircle, it would take "All of the world's supercomputers put together 44 years to break the encryption of a single message."
The top 3 encryption apps are:
Silent Circle (Silent Phone, Silent Text) – This app was developed by two ex-Navy SEALs and a legend in the field of cryptology. The app is FREE in the iTunes App Store and Google Play. Encrypted WiFi calling is free. Subscriptions ($10/month) are required for full functionality.    Availability: iPhone, iPad, Android
Red Phone – This easy to use app has a lot of the same benefits that Silent Circle offers, minus the subscription fee and the slick functionality. Red Phone seems to work best on older devices and operating systems, like the developer is always rushing to catch up (they probably are) with all of the new iPhone and Android software updates.     Availability: iPhone, Android
Seecrypt – Seecrypt offers voice calling and text messaging encryption, but not emails (yet). The app is free to use for the first 3 months and you get 3 additional free months each time your refer a friend to Seecrypt. After 3 months, the price is a measly $3/month, money well-spent. [Watch the video below for more info]    Availability: iPhone, Android
WHAT PRECAUTIONS ARE TAKING (TECHNOLOGICAL OR OTHERWISE) TO PROTECT YOUR PRIVACY? SHARE IN THE COMMENT SECTION!