Taurus Model 82 .38 Special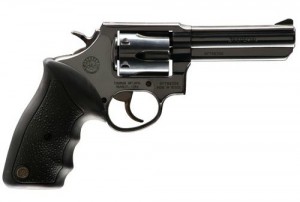 For another nice plinkster at a very reasonable price, Taurus offers a really nice package here with the updated Model 82.
If you're familiar with security and service revolvers, then you probably already recognize the Model 82. It's been around a long time, serving many security guards and police (particularly in Brazil where Taurus is headquartered).
Due to its fairly large size to caliber ratio, this gun is nicer to shoot and has less recoil than many of the smaller revolvers designed for concealed carry. In addition, it's 4″ barrel helps to group those shots a little tighter.
Due to its size and weight, the Model 82 isn't one of the best candidates for a conceal carry gun, but we suppose it's possible to carry it comfortably and conceal it reasonably well.
This revolver, with its combination of shoot-ability and simplicity, is an excellent option for first-time gun buyers. It's not the flashiest gun, but it's such a nice all-around weapon at such an affordable price that it will serve you well as you ponder your next purchase.
RETAIL: $350