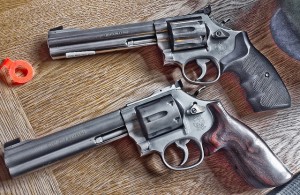 For many shooters, there's just something about the simplicity, reliability, and timelessness of the revolver is just irresistible.
While semi-automatics seem to get all the attention these days, there's no shortage of innovation or excitement in the revolver-first camp. Plus, these guns can be quite affordable too.
Upgrades in technology alongside the concealed carry movement have brought about a whole new breed of lightweight, internal hammer revolvers.
RETAIL: Top 7 Guns for Seniors
At the same time, the old classics remain as useful and accurate as ever, albeit with some modern day refinements.
Whether you're looking for a gun that loves plinking at the range, a budget-friendly concealed carry gun, or just an all-around classic, you don't have to break the bank.