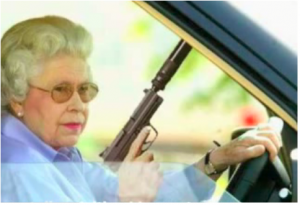 Recently, we received an email asking if we can recommend the best guns for seniors. It's an idea that's been suggested to us by multiple readers before, yet it had been put on the back burner, partly because it seemed a bit insulting to suggest that seniors would need different firearms that other shooters.
Then we received a request that read as follows:
"I see a good bit of information on weapons but little that helps me decide what weapons are best for those with less strength.  I am only 60 but I have a genetic defect in connective tissue that does not offer much protection to my joints.  Specifically I am concerned about recoil of handguns or too much kick-back on rifles."
Suddenly, it made perfect sense to do the research, because it may actually help one of our readers in their buying decision. If this information helps her, we're satisfied. If you find yourself in the same boat, perhaps it can also help you.
RELATED: This 86-Year-Old WWII Sniper Still Has Deadly Accuracy [VIDEO]
Each of the guns on this list include at least one feature that makes them more user friendly to someone with limited hand strength, no matter if age, disability, or a chronic ailment is to blame. Good news if you fit this description. There are plenty of firearms on the market today that can help you enjoy shooting again!
These features include:
Ease of trigger pull
Grip ease
Ease of loading/chambering
Light recoil
Light overall weight