2. Basil 
Herbs and spice make a big difference in the taste of food, and you're especially going to want them to prevent boredom after the SHTF. The good news is that you can easily grow several options from your patio or balcony.
One of the most popular choices is basil, and you have a few options to help you get started. Basil plants are sold ready to transplant if you don't have the patience to work with seeds. On the other hand, basil seeds are relatively easy to work with, and you'll save money by going this route.
The only thing you need to be careful with is that basil requires a lot of sunlight to grow and thrive. On the plus side, you can easily grow it from inside your apartment or home if you place it next to a sunny window.
Photo by Avi
3. Tomatoes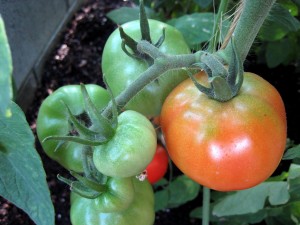 Some people erroneously assume that tomatoes are hard to grow, but the truth is that even first-time gardeners can bring them to fruition. All you need to do is pay attention to some of the specific requirements that these plants have. For instance, a tomato plant will need a minimum of six hours of sun exposure every single day. In other words, if your balcony is covered in shade all day, that's not going to work.
Next, you need to choose a large container for your tomatoes so that they have room to grow. You'll also need to put a cage around the plant. Failure to so will cause them to sprawl out and invade the rest of your balcony space.
Make sure that you fertilize the soil before getting started. If it's your first time or you've had trouble in the past, consider trying cherry or grape tomatoes instead as they're the easiest to keep going.
Photo by Wayne Noffsinger