Marlin Model 60 .22LR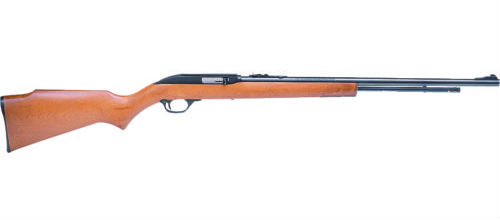 Some may disagree, but we believe there's no greater shooting joy for your dollar than to burn through a box of 22lr with your favorite plinkster.
There are plenty of nice semi-auto rimfire rifles out there in this price range, several with excellent reputations. The Marlin Model 60, coming in at around $170 is one of these classics.
Not only is this model highly accurate, right on par with the mighty Ruger 10/22. We'd love to see a shooting match between these two rimfire legends.
The primary difference most shooters would notice is that the Marlin features a tubular magazine with a 14-round capacity, i.e. you can't upgrade your magazine capacity. If your goal is to outfit your .22 with accessories and banana clips, by all means go right ahead. If you're looking to say within budget, the Model 60 is hard to beat.
RELATED: The VERY Best Rimfire Guns on a Budget [GUIDE]

Which brings us to the highly acclaimed Ruger 10/22, also under our price cap of $250 from some retailers. If you can find this gun within your budget, by all means go for it!
You really can't go wrong with this classic. The black synthetic and hardwood versions of Ruger's 10/22 Carbine both have a list price of $249.99. At only five pounds, this is a semiautomatic rimfire rifle that is easy to carry. The contoured butt pad provides comfort while shooting, and you can adjust the rear sight to achieve the best results. The detachable rotary magazine holds 10 rounds, and you can expect a long life from the alloy-steel barrel.