Red Dot Sight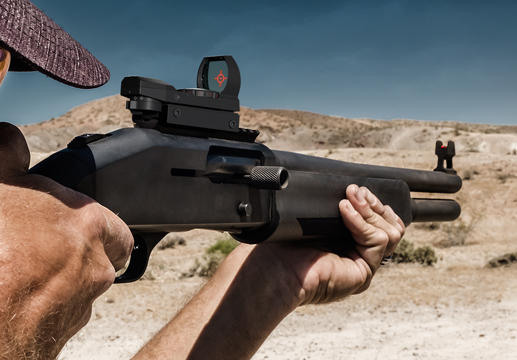 Got a gun nut on your list? If you're reading this, then you probably have more than one gun collector to shop for. And you know how it is; the more toys you have, the more accessories you need, right?
Red dot sights have become a tactical shooting mainstay, beginning with the interest in military style carbines, and now they're catching on in the handgun world as well. For example, the gun selected to serve as the USAF sidearm going forward, the Sig P320, features a red dot. The awesome thing about these sights is their adaptability.
Traditional riflescopes are great for long distance shooting, but not at all ideal for tactical shooting or mid-range plinking. Red dots allow you to keep your head in a comfortable eyes up position while getting better results and much quicker shots.
The glowing red or green reticles available on demand with the MCG Red Dot allow the shooter 6 different options, each with 5 intensity levels. If you've never shot with a red dot before, we guarantee it will win you over. The MCG Red Dot is much more advanced that the original "red dots" tubes to hit the market. Yet, despite the fact it has green and red reticles, all of these optics are generally referred to as "red dots."
Bonus: If your giftee struggles with poor eyesight, the MCG Reflex Red Dot looks even more appealing (no pun intended). By projecting the reticle on a lens, you can eliminate the need to focus on the front sight, rear, and the target. Instead, everything appears on the same plane just a few inches from their face, which can work wonders for those who need corrective lenses.