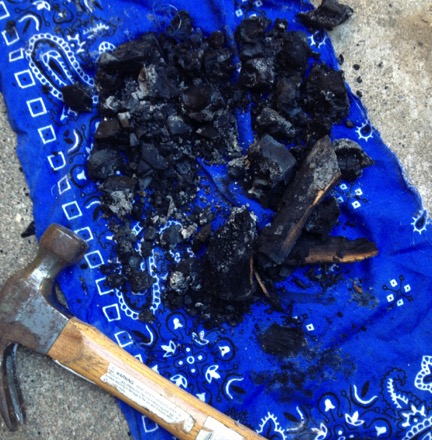 4. This step of the filtration process requires crushed charcoal. Now, maybe you're thinking, "What!? I'm not wagging around a 20lb bag of charcoal in my bug-out bag!"
Don't worry; you can make charcoal by simply taking well-charred wood out of the nearest fire pit, wrapping it in your bandana, and then smashing it with a hammer or the back of a hatchet. Think popcorn size, not crushed to smithereens.
Take a pile of the charcoal and pour it on top of the cloth in the neck of your bottle. Shake the bottle around a bit until the charcoal pieces settle. You're looking for 1.5" to 2" layer of charcoal in your bottle.
5. Next add a 1" to 1.5" layer of fine sand. Playground sand is perfectly good here, as is beach sand on some Gulf Coast beaches.
The important thing at this point, on top of the charcoal, is to create a gradient for the water to travel through that gets finer and finer until it reaches the charcoal.