Can a company own a strain of DNA inside of a seed that's grown and harvested by an individual? The answer appears to be yes, according to a decision handed down by the "highest" court in the land last week.
The Supreme Court's decision raises fresh concerns about the decaying state of America's agriculture. In this particular case, a farmer in Indiana was ordered to pay Monsanto $84,000 for seeds that he purchased from a local grain elevator!
Seed form grain elevators is typically used as feed, but this farmer chose to plant his seeds, grew a late-season crop of Monsanto's Roundup-Ready soybeans, and harvested the seeds… which the Supreme Court determined was a violation of Monsanto's patent.
It's a shockingly twisted outcome to think that a corporation can own multiple generations of a self-reproducing seed, but that's what is happening — and it's quickly spiraling out of control.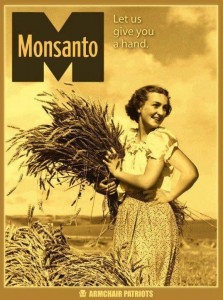 Folks, American agriculture is about the go down a road where there's no turning back…
If Monsanto can own the rights to multiple generations of seeds, then why couldn't the same be true of livestock, fish, shrimp, and even pets. Every type of food we produce in this country could soon be subject to patent-law.
From the New York Times:
 Farmers who buy Monsanto's patented seeds must generally sign a contract promising not to save seeds from the resulting crop, which means they must buy new seeds every year. The seeds are valuable because they are resistant to the herbicide Roundup, itself a Monsanto product.

But the Indiana farmer, Vernon Hugh Bowman, who had signed such contracts for his main crop, said he discovered a loophole for a second, riskier crop later in the growing season.

For that second crop, he bought seeds from a grain elevator filled with a mix of seeds in the reasonable hope that many of them contained Monsanto's patented Roundup Ready gene.

Seeds from grain elevators are typically sold for animal feed, food processing or industrial uses. But Mr. Bowman planted them and sprayed them with Roundup. Many plants survived, and he replanted their seeds.

Monsanto sued, and a federal judge in Indiana ordered Mr. Bowman to pay the company more than $84,000. The United States Court of Appeals for the Federal Circuit, which specializes in patent cases, upheld that decision, saying that by planting the seeds Mr. Bowman had infringed Monsanto's patents.

Justice Kagan agreed, suggesting that Mr. Bowman had been too clever for his own good.

Mr. Bowman's main argument was that a doctrine called patent exhaustion allowed him to do what he liked with products he had obtained legally. But Justice Kagan said it did not apply to the way he had used the seeds.

"Under the patent exhaustion doctrine, Bowman could resell the patented soybeans he purchased from the grain elevator; so too he could consume the beans himself or feed them to his animals," she wrote.

"But the exhaustion doctrine does not enable Bowman to make additional patented soybeans without Monsanto's permission," she added, and went on to say that "that is precisely what Bowman did."
What do you think? Did the Supreme Court get it right? Let me know what you think think the comments!