U.S. Survival AR-7 Rifle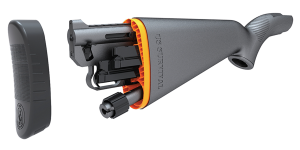 Sometimes, the best gift for a weapons enthusiast is another weapon. In this instance, the item we have in mind is also ideal for preppers who are concerned about storage space. Having a quality rifle handy will serve many practical purposes when the SHTF, but carrying one while bugging out may be a daunting proposition, especially when there's a need for speed and discretion.
** Henry's AR-7 is MCG Red Dot Compatible!**
The good news is that the U.S. Survival AR-7 Rifle addresses both of these points. The gun's components can be taken apart and stored inside of its own 16.5" water and impact resistant stock. Even better is the fact that no tools are required to assemble the rifle. After getting some practice, your recipient should be able to bring their survival rifle to life in only a few seconds.