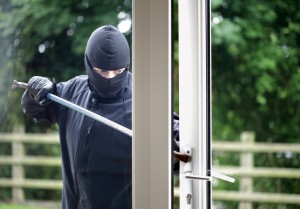 Burglars like the one in the photo to the right are a rarity these days, nearly extinct. Learn why today's burglars work very differently…
If anyone calls you paranoid for keeping your doors locked at all hours of the day, send them a link to this post. It's definitely an eye-opening look at how today's criminals select their targets.
Even better, send them to the video on page 2. This will clear up a lot of confusion about how most property crime truly takes place… and what "paranoid" behaviors are actually spot on.
RELATED: Top 5 Shotguns for Home Defense [Under $300]
Oftentimes in the context of self-defense, we talk about taking steps to make sure you're not the "easy target," in a given situation.
It's the concept of appearing slightly more alert, capable, and intimidating than those around you, because muggers are mostly cowards.  They simply want to select the target with the lowest probability of resisting or fighting back.
The same concept works for your HOME and your CAR.