2. Cover Your Windows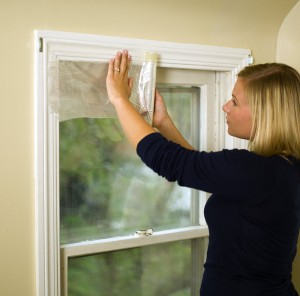 Window shrink film kits are easily accessible in stores right now, and you could also make your own if you have any plastic drop cloths on hand. Putting this over your windows will dramatically reduce the amount of heat loss that your home suffers this winter. What if you don't have shrink film, though?
There are numerous options, including putting up black out curtains, taping newspaper to the windows, putting up bubble wrap over the windows and using curtains. Any of these will reduce heat loss, and combining two or more methods works even better.
You can also pin up a blanket over a window to help insulate the room. In fact, as long as you have at least one thick blanket to wrap up in, you will probably be better off putting other blankets over your windows instead of lying underneath them. This is because keeping your house well-insulated will naturally keep you much warmer than trying to protect yourself from cold air after it leaks into your living space.