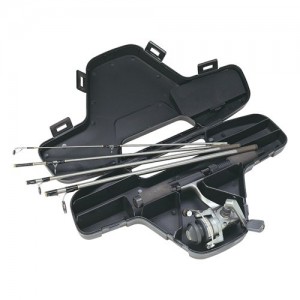 If we know one thing about those diehard members of the self-reliance movement, it's that they have an awful lot of stuff. That's a nice way of saying they're nearly impossible to shop for.
You may have friends like this. You may even be one yourself. People with this personality type are the prototypical "guy who has everything."
If you have someone like this on your shopping list, you're in luck. Why? Because here at The Patriot Caller, we've accepted the challenge of sifting through the best of the top gear and coming up with the Top 10 Survival Gifts that are guaranteed to be a smash hit with any survivalist, outdoorsman, or firearms enthusiast you can dig up.
Setting the Criteria
So how did we go about creating this amazing gift guide? In case you're wondering what criteria we used, and who exactly we had in mind while creating this list, here are our primary benchmarks.
First off, the overriding criterion is that each item on this list has to be an absolute barnburner selection for any survivalist on your list. The purpose of this list is to inspire you with an excellent gift idea for a certain type of person (the type that generally reads this newsletter) by increasing their preparedness level, sure, while also putting a big smile on their face.
Second, each submission on this list had to be extremely highly rated and recommended, both by expert reviewers and the end users who purchased them. Because let's face it, when it comes to survival gifts there are a lot of gadgets the sound amazing, but fail to deliver… no matter how great the idea behind the product.
The last piece of the puzzle when deciding on our Top 10 Self-Reliance gifts has to do with price. For a gift to be truly great, it has to be appropriate for the relationship you have with the recipient, right? That's why we've nominated items with multiple price ranges, appropriate for a survival minded father, sister-in-law, uncle, or a friend.
Plus, we've even got a bonus stocking-stuffer at the end of the list if you want to stay under $10. We don't know about you, but we're not willing to pony up too much money for that no-good brother-in-law. Still, you can get him a very cool gift that'll let him know how much more competent a gift-giver you are.
…Click through to see 1-5: Top Value Gifts for $100 or Less