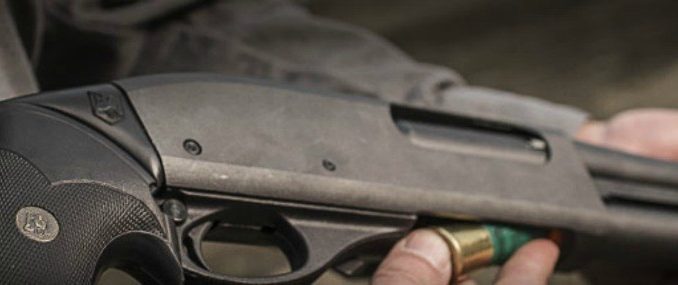 In most movies with climactic home defense scenes, the hero usually carries a semi-auto pistol or a Dirty Harry style .44 Mag revolver. There are two reasons for this:
1.) Hollywood movie producers know next to nothing about guns. 2.) These shootout scenes wouldn't last nearly as long if the hero was armed with a pump shotgun.
To drag a shootout scene out for maximum cinematic effect, many shots must be fired… and the vast majority of them need to be misses. If you know much about firearms, you can probably guess where we're headed…
Why the 12-Gauge Pump is the Ideal Home Defense Weapon
No assailant, no matter how skilled in martial arts can evade a shotgun blast… It doesn't matter if the person pulling the trigger is an 80-year-old-woman and the attacker is an NFL linebacker, the result is the same.
That's precisely why, if you want to own a single firearm for home protection purposes only, it should be a 12-gauge pump shotgun.
1. Point and Shoot
The number one reason we recommend the 12-gauge pump as "the" essential, must-own firearm is that, in home defense situations, you're not likely to miss your target entirely. Let's face it, you need to give yourself the best possible chance possible.
With a shotgun, the closer the target, the more likely you are to hit it, given the barrel length vs a snub nose revolver. The further away, the larger the pattern becomes.
Because shotguns shoot a pattern of pellets, AKA "shot," rather than a single bullet, it requires significantly less precision to hit a target. In a home defense scenario, the shotgun is more of a "point and shoot" weapon.
On the news, we often hear about police shootouts in which dozens of bullets are fired from close range, and yet no one was injured. That outcome would be very unlikely if one of the officers was carrying a 12-gauge pump. Are the police watching too many movies?
With a shotgun, only a small percentage of these pellets need to hit their mark in order to subdue a threat. You don't need to be a highly skilled marksman. Of course, that's not to say that you don't need to undergo proper training to use a shotgun safely and proficiently.
2. Deterrence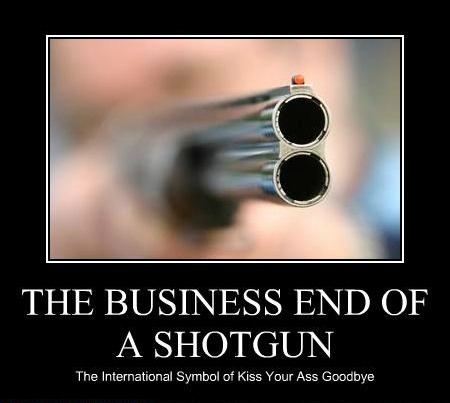 The second reason we recommend this weapon above others is simply the sound the pump makes when a shell is loaded into the chamber. This pump-action "click-click" sound is recognized by criminals the world over… it's an international language.
Let's paint a picture from the intruder's perspective for a moment, shall we? Imagine you're a professional burglar and you've just managed to gain entry to a home, it's pitch black inside, and you believe that you have entered undetected…
Then you hear "click-click" of someone upstairs jacking a shell into the chamber. What would you do?
This sound alone should be enough to drive all but the most determined trespassers back through the window they just pried open. That's the beauty of the pump-action shotgun, as opposed to other designs — it has a built-in warning signal.
Once you've made that sound, you will be able to gain critical intel into the trespasser's mental state and his intentions. If the trespasser leaves quietly, you may never have to actually use violence. The threat alone was sufficient…
3. Maximum Localized Damage, Minimal Collateral
As explained above, the shotgun's spread pattern makes it very effective at close range, highly capable of inflicting massive damage. Once again, it's hard to miss your target entirely.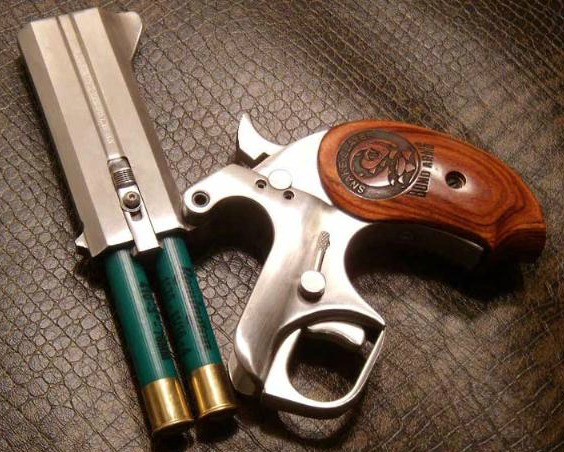 On the flipside, shotguns have a much more limited range than other firearms. In a home defense scenario, this limited range has some decided advantages for your family and neighbors.
Basic firearm safety requires that you ALWAYS know what lies beyond your target. In the event of a home invasion, knowing what lies on the other side of a wall is not always possible. If you share a wall with a neighboring unit, this becomes an even greater liability.
RELATED: Top 8 "Shirt Pocket Pistols" 
Unlike a bullet from a rifle or pistol, a shotgun blast releases a cluster of small projectile that have less mass, and thus less momentum to push through objects like walls.  This is not to say that shotguns can't penetrate sheetrock; they're just not as likely to emerge on the other side with deadly force.
The Top 5
A lot of new firearms manufacturers have made it to the market in the last few years, but we like to stick with the tried and true favorites. Each of these shotguns can be had for well under $350. We spotted two of these models on sale for under $300 at a local sporting goods store just the other day.
Click "Next" for Our Top 5>>