SPRINGFIELD XDm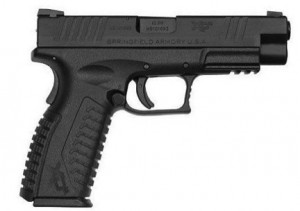 The Springfield XD series has quickly become a fan favorite among pistol enthusiasts, approaching even the Glock in popularity.
The XD is another polymer frame gun, much like the Glock, with ambidextrous magazine releases, a grip safety, and a trigger action safety. The sharp 3 dot sights are easy to get comfortable with and even the shorter models are highly accurate.
When you put the XD and a Glock side by side, the comparisons just can't be avoided. The XD is a bit narrower than the Glock, and the controls and safety are slightly larger than those on the Glock.
[COUPON: Get Your MCG Laser Sight 50% OFF]
The .40 XD model comes equipped with two 13 round magazines, so you've got plenty of firepower for the range, but less than you'd get with the XD's younger brother, the XDm (which has a 16+1 round capacity). Retail: $549